Viva Zapata!

Posted by Adam Blickstein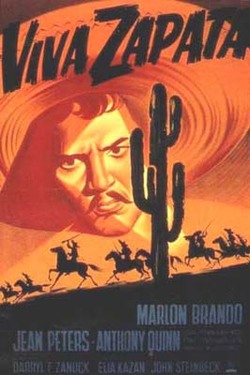 It's McCain's favorite movie, but considering today's news, I don't think McCain will be chanting Viva Zapatero! anytime soon:
But the senator's all-time favorite film? "It is a bit political in its own way: 'Viva Zapata!' I'm sure I've seen it four or five times, but I haven't seen it quite a few years. It was one of Elia Kazan's least appreciated films. I thought (Emiliano) Zapata was a genuine, authentic, uncorrupted leader who fought to improve the plight of his countrymen. He held true to his principles.

"There were many scenes in the movie, but a few stand out," recalls McCain, who quotes verbatim long stretches of dialogue that recall the perfs of Marlon Brando, Jean Peters and Anthony Quinn.

The senator says "Viva Zapata!" influenced him more than any other film "because I had never heard of him before I saw the movie. I became interested in Zapata and started reading about him.