ObamaTory!

Posted by Adam Blickstein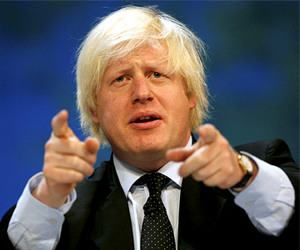 Not one to parse his words, the Tory Mayor of London, Boris Johnson, has weighed in on the U.S.Presidential election:
I think [Republican candidate] John McCain has many, many wonderful qualities... but I think a Barack Obama victory would do fantastic things for the confidence and the feelings of black people around the world - that they can win."

Asked if he endorsed Obama, he said: "Yes."
His, um, interesting endorsement of Obama is quite a reversal for Johnson, who once wrote:"Not only did I want Bush to win, but we threw the entire weight of The Spectator behind him." But then again, he also once said about Bush: "The President is a cross-eyed Texan warmonger, unelected, inarticulate, who epitomises the arrogance of American foreign policy."