Putting Your Best Foot Forward

Posted by Ilan Goldenberg
Spencer Ackerman has been doing some great work on trying to figure out the methodology behind the sectarian violence and civilian casualty numbers. And today the LA Times also has a piece with MNF-I's explanation. I'm still looking for a clear breakdown, but my overall observation is that all these numbers would have been much more credible if the military and Administration hadn't gone out of their way to dramatize success. Three examples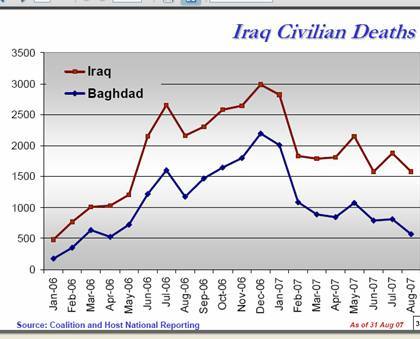 First, rather than emphasizing the change in civilian casualties from December (2 months before the surge began) to August the General should have just said there has been a 15% decrease in violence since the surge began. From February to August. That's still a little misleading because numbers go up and down every month. For example, between July and February there was almost no drop at all and between when the surge was "fully in place" in June and August there was no difference in civilian casualties. But he sold it so hard and he used the absolute highest data point.
Then there is the argument that many others have already made that ethnic cleansing in Baghdad had already caused Shi'a and Sunni to separate, which meant that they were no longer as easily able to kill each other. Again, General Petraeus's slides don't tell the whole picture. Compare his maps below with those that the Jones report used. Jones actually shows July 2006, when the city was still very much mixed. As the maps indicate, by the end of 2006 the Shi'a and Sunnis had completely separated giving credence to the argument that a central reason for the drop in violence was the ethnic cleansing. Unfortunately, you don't get that understanding by looking at General Petraeus's slides.
Jones Maps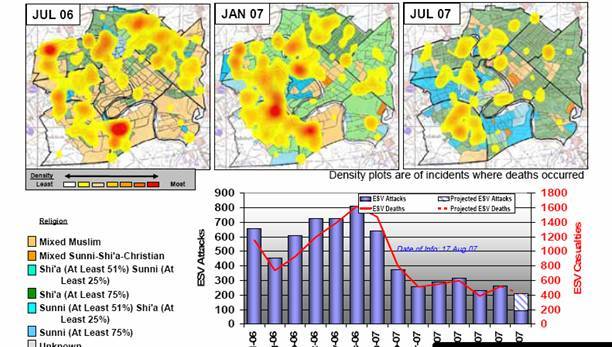 Petraeus Maps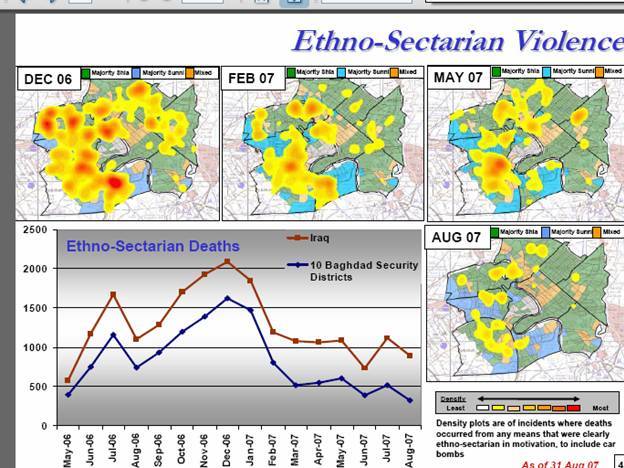 Finally, why did the Pentagon and Administration spend so much time emphasizing "sectarian violence" and touting it as a huge success? Why did General Petraeus push sectarian violence is down by 75% statistic? Trying to figure out the intent behind a killing is dubious. Many victims in Iraq are found dead on the street. There are some specific signs that indicate that a killing was likely sectarian nature, such as finding a body blindfolded and bound at the wrists, but there is no way to no for sure. That is where the front of the head/back of the head controversy came from in the Washington Post. So why didn't the Administration and the military just come clean with civilian casualties from the start?
The question is not whether or not they are flat out lying. I don't think they are. But in these cases they have continuously gone out of their way to use incomplete data to show the most positive picture possible and then they ask us to believe all the source data and get indignent when we don't. If they don't want their source data questioned they shouldn't blatantly massage these statistics.