More Fuzziness

Posted by Ilan Goldenberg
Hat tip to Brian Katulis at CAP who clued me on to this issue and Spencer Ackerman has already got a great post on this.
Basically there are more serious questions about the violence numbers that are being reported out of Iraq. The Pentagon is congressionally mandated to produce a quarterly progress report to Congress measuring stability in Iraq. Each of these reports has a graphic measuring sectarian violence. The last four reports were August, 29 2006 (pg 35), November 30, 2006 (pg 24), March 2, 2007 (pg 17) and June 7, 2007 (pg 17).
I graphed the levels of sectarian violence from these various reports and found some confusing trends. The abnormalities have been labeled A, B and C. (There is no difference between the November report and the March report and thus they overlap).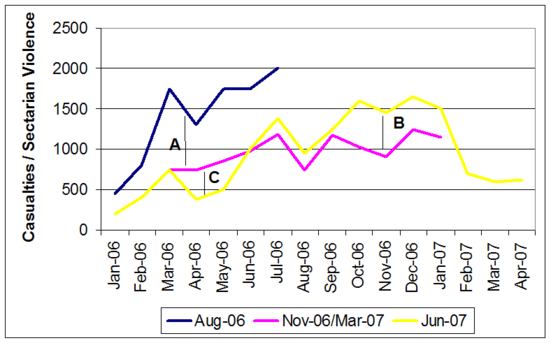 Abnormality A: Between August and November 2006, DOD started reclassifying "casualties" as "deaths by execution" and suddenly you see a dramatic drop in killings. For example, in March 2006 right after the Samarra Mosque bombings you go from 1,750 "casualties" to 750 "deaths by execution." Between November 2006 and March 2007 "Deaths by Execution" becomes "Sectarian Murders" but the numbers remain the same.

Abnormality B: Between the March 2007 report and the June 2007 report there was a dramatic change in the number of killings that were reported for the second half of 2006. In both cases the numbers were described as "sectarian murders." The impact here is that it makes the "pre surge" situation look extraordinarily dire and therefore signals progress thereafter.

Abnormality C: Somehow the reclassification that occurred between the March and June 2007 reports caused the violence numbers in April and May of 2006 to drop dramatically. This was in the months following the Sammara bombings in February 2006 when sectarian violence was escalating.

I really have no idea why these numbers are so inconsistent, but it does lead me to call into question the violence numbers that are being reported by the Administration, when it touts progress. Clearly certain types of violence have been taken out and others have been added. What we need is some transparency. Congress needs to take a very careful look at the numbers that come before it in September
Update: Slight correction. I changed the legend so that Nov. 07/Mar. 07 now reads Nov. 06/Mar. 07.