Hang on Ariel Sharon, In Body Or At Least In Spirit

Posted by Suzanne Nossel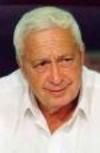 Ariel Sharon is fighting for his life after suffering a massive stroke today. Short of a miracle, it seems his prospects for taking Israel forward to a final settlement of its borders and and end to its epic battle with the Palestinians have dimmed.
See here for a look at the potential that lay in Sharon's decision to break from Likud in late November and form a new party dedicated to achieving a final settlement. It was the most heartening development in the Israel-Palestinian conflict, and Sharon's falling could be the cruelest.
Sharon, at 78, is a fighter bar none and should not be counted out until he takes his last breath. If indeed he cannot recover, those who followed him into the Kadima party need to step up and show the mettle and grit that is emblematic of the Israeli character. They cannot cede the ground to Likud and a return to the stagnant politics and grinding conflict of the past decade. Sharon is completely unique, with shoes that are unfillable. But his footsteps point forward and, as difficult as it will be, his colleagues and supporters need to continue to lead the way down that path.