Rumsfeld is evil. Eeeevil!

Posted by David Adesnik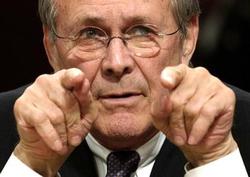 The latest round of speculation about a rushed American withdrawal from Iraq began more than three weeks ago with a WaPo report entitled US Signals Spring Start for Pull Out. The story was irresistible. Thanks to George Bush's constant and unequivocal declarations that we will stay in Iraq until we've won, any hint of a planned withdrawal carried with it intimations of hypocrisy.
The process of speculation rapidly intensified four days ago, when the WaPo ran a top-of-the-front-page story entitled U.S. Lowers Sights on What Can Be Achieved in Iraq. The essence of the story was that a "senior official" and "another U.S. official" had concluded that even an indefinite occupation could not achieve the objectives that President Bush had for Iraq.
As things now stand, progressive analysts seem to be 100% persuaded that the remarks of these unnamed officials represent the opening salvo in the administration's effort to declare victory and go home or, less kindly stated, to cut and run. If you scroll down, you can see that Heather, Derek and Stanton have all elaborated some version of this hypothesis.
One scenario that none of these progressive hypotheses address is the possibility that the unnamed officials who spoke to the WaPo are not operating on behalf of the administration as a whole, but instead represent the agenda of an embattled faction within the cabinet. In contrast, prominent pro-war conservatives have almost uniformly lain responsibility for all of this withdrawal talk at the door of Donald Rumsfeld.
Most vociferous of all is the criticism coming from William Kristol, editor of the Weekly Standard. In an editorial entitled Bush v. Rumsfeld, Kristol lashes out at the SecDef for his "weakness and defeatism". As Kristol goes on to argue, the President himself seems to have decisively rejected much of the pro-withdrawal sentiment coming out of the Pentagon:
On Wednesday, speaking in Texas, the president used the word "war" 15 times, and the phrase "war on terror" five. "Make no mistake about it," the president exclaimed...

And so, the president added, "I hear all the time, 'Well, when are you bringing the troops home?' And my answer to you: 'As soon as possible, but not before the mission is complete.'" As the president said Thursday, "We will stay the course. We will complete the job in Iraq."
For liberals and progressives who have little to no faith in Bush's ability to tell the truth, all of this tough-talk may seem nothing more than an elaborate charade designed to mask the impending cut-and-run. But my sense is that Bush, much like Reagan before him, has no interest in this kind of charade. If there is a message to deliver, he will deliver it himself.
In the blogosphere, Kristol's criticism of the SecDef has been echoed by intelligent hawks such as Greg Djerejian of the Belgravia Dispatch, who writes that:
Mr. President, this hubris-ridden, incompetent Secretary is increasingly becoming a major liability to you...

If a key member of your team doesn't understand that an Iraq characterized by civil war or dueling militias is a strategic and moral failure, he must be taken off your team. National interest must trump any residual loyalty...If [your] Defense Secretary is not on this page anymore, [your] Defense Secretary must go.
Although Greg shoots straight 100% of the time, I think one has to consider the possibility that a veteran infighter such as Kristol has decided to make Rumsfeld the scapegoat for all of this withdrawal talk even though, perhaps, Kristol has private concerns that the President may have more sympathy for Rumsfeld's position than his public statements imply.
By the same token, John McCain has also issued an unequivocal denunication of any planned withdrawal while suggestiong that the Pentagon, and not the White House, is responsible for the current bout of speculation. Yet when McCain made this argument during an interview with Chris Wallace, Wallace asked the Senator a fairly logical and perceptive question:
You seem to be suggesting that it's coming from the pentagon, and that they are pushing for withdrawals, when the political people at the White House, who you think would be the most sensitive on that issue, are saying: "No...we're going to stand firm."

Why would the Pentagon be softer in this regard than the White House?
Being his usual self, McCain responded "I have no idea...I can't explain it." And, of course, from an electoral perspective it makes no sense for the Pentagon to be more dovish than the White House. But I think the real issue here is ideology. Rumsfeld has simply never signed off on Bush's democracy promotion agenda, either for Iraq or for the broader Middle East. A fairly traditional realist, Rumsfeld has every reason, especially as SecDef, to oppose an occupation that has tied down almost our entire Army and left us with only air and naval forces capable of responding to a crisis in South Korea, the Taiwan Strait, or elsewhere.
Once again, this explanation will presumably carry no water for liberals and progressives, who don't think Bush is the least bit sincere when it comes to his supposed support for a global democratic revolution. But even though I think Bush is sincere and has been for a very long time, he is still a politician who has to reckon with the impact that his principles have on his approval rating.
Now, it is important to remember that liberals have been talking up a "cut and run" scenario since the fall of 2003. Back then, they said that Bush would never risk running for re-election with our troops still on the ground in Iraq. Then, as the election approached, liberals began to assume that Bush was concerned about looking weak but would pull out right at the beginning of his second term, so that he could focus on other priorities such as Social Security reform.
In short, there will always be some explanation available for why Bush's self-interest would dictate a rushed withdrawal from Iraq. The question is, can we confidently say that the rise of Cindy Sheehan and the intensification of the anti-war movement has put the President under more pressure to withdraw than ever before? Or is Bush thinking to himself that these are just the dog days of August, and that what Americans really want from their President is idealism and resolve?
PS Special thanks to MH for pointing out some of the editorials and blog posts quoted above.