Inside the Arab Mind

Posted by David Adesnik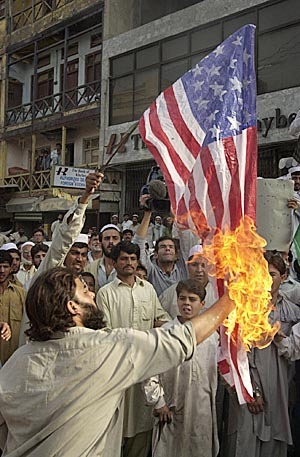 Those of us with overpriced, overhyped academic credentials like to think of policy analyis as a firmly rational discipline in which logic and evidence serve as the basis for sound judgments. However, IMHO, there is so much uncertainty in world politics that even the best-informed analysis must depend on an extraordinary degree of speculation.
My case in point is the standard American discussion about Arab popular opinion, to which some analysts condescendingly refer as "the Arab street". In his inaugural post as a guest blogger here on DA, Michael Kraig called into question
The status quo policy conception that the anger in the Middle East is due to internal, domestic repression/ oppression/injustice under autocratic governments, and that the anger toward Israel, the West, the US, and the globalizing world order is a byproduct of this, or an escape valve for this.
According to Michael, this argument is
Wrong -- or at least, half-wrong. There is of course an "escape valve" factor at work here...But would this anger and hate disappear if the Middle East were democratized at the domestic level? The answer is, simply, no. Because the feelings about lack of justice, or lack of democracy, at the INTERNATIONAL level are just as acute and just as real for many citizens and officials alike throughout the Middle East, and only the US supporting the rule of law at the international level will appease this anger and truly bring about a sea-change in relations and perceptions.
To Michael's great credit, his observations are based on extensive discussions he had during two months of business travel throughout the Middle East. The opinions his counterparts expressed are ones that should be taken seriously.
Nonetheless, as any student of public opinion knows, it is extraordinarily hard to gauge the instensity of an interview subject's preferences even when one is fairly certain about what those preferences are. In other words, I don't doubt for a second that the overwhelming majority of Arabs sincerely resent Israeli behavior toward the Palestinians or perhaps even the existence of Israel itself, not to mention being critical of the United States for defending Israeli interests.
But what I really want to know is how intense these feelings are. For example, one great challenge for the United States is to confront the surprising degree of sympathy for Al Qaeda and its methods in the Arab world. To what degree will this sympathy diminish in those Arab nations such as Lebanon where the transition to democracy has begun?
As Michael acknowledges, some of the anger directed at the United States and Israel is the byproduct of domestic repression and should therefore diminish as a result of domestic liberalization. Thus, I am inclined to say that the difference between Michael's position and my own is one of degree and not of kind. The question then is how one should go about determining to what degree Arab anger is the product of actual greivances rather than an indirect response to domestic oppression.
In 2003, Foreign Affairs published an excellent essay on this subject by Michael Scott Doran, a professor of Near Eastern Studies. Doran's analysis focuses on Arab attitudes toward the Palestinian question, rather than Arab resentment of the United States. Doran argues that most expressions of concern about the Palestinians in the Arab world are rhetorical gambits designed to entrap one's domestic opponents rather than an expression of an actual desire to do something for the Palestinians.
One fascinating illustration of Doran's point is his description of a protest in the impoverished region of Al Jawf in northeastern Saudi Arabia. Doran writes that:
Al Jawf has earned the distinction of being the only place in the Saudi kingdom repeatedly and consistently to defy laws criminalizing popular demonstrations. Matters reached a head last April 5 [of 2002 -ed.] in the town of Sakaka, where about 4,000 angry young men congregated in town squares, burned Israeli and American flags, and called on Arab states to take action on behalf of the Palestinians. To restore order Saudi authorities had to dispatch three transport planes carrying 500 riot police, and for weeks afterward these forces continued to patrol the area.

As extensive reporting in the London-based Arabic daily Al-Quds al-Arabi has made clear, the demonstrations "were organized in solidarity with the Palestinians and in protest over the neglect which the [Al Jawf] region is suffering at the hands of the government." Al Jawf is one of the most backward places in Saudi Arabia. Many towns in the region, including Sakaka, lack electricity and the basic amenities of modern life. Located far from ports and oil revenues, lacking access to the corridors of power, the residents of Al Jawf feel deprived.
In Saudi Arabia, the punishment for dissidents is usually imprisonment or worse. Yet by framing their protest as an action on behalf of the Palestinians, the residents of Al Jawf made it impossible for the monarchy to punish them as traitors. After all, at least officially, the House of Saud shares the protesters sympathy for the Palestinians.
As Doran points out, even Osama bin Laden's concern for the Palestinians arose as a byproduct of his hatred for the House of Saud and other pro-American dictatorships. Only after 9/11 did bin Laden start to describe as Israeli behavior as a leading justification for his terrorism. Personally, I think it is safe to infer that bin Laden had no love lost for Israel before 9/11. Yet his behavior speaks volumes about the intensity of his preferences; he may have been sympathetic to the Palestinian cause but devoted himself to the struggle against his own government and its American patron.
Another important point that Doran makes is that even if one were to assume that Arab anger is primarily a response to Israeli transgressions rather than domestic oppression, it may simply not be possible for either the United States or Israel to allay such anger since:
Americans and Arabs nurture such different conceptions of what constitutes a just solution to the Israeli-Palestinian conflict that it is hard to imagine Washington ever adopting a policy toward it that would be truly popular in the Arab world. The most "pro-Palestinian" policy realistically conceivable would look something like the Clinton plan presented in late 2000, but even this would entail major Palestinian compromises (such as the renunciation of the right of pre-1967 refugees to return to their homes inside Israel proper).
Of course, this point in no way constitutes evidence for the assertion that Arab anger is more of a response to domestic oppression than it is to foreign encroachments. Nonetheless, it does throw the ball back into Michael's court by demanding to know how exactly progressives might attenuate Arab resentment of the United States and Israel. Michael?