The U.S. Dept. of Treasury Won't Let Me Support My Country

Posted by Max Bergmann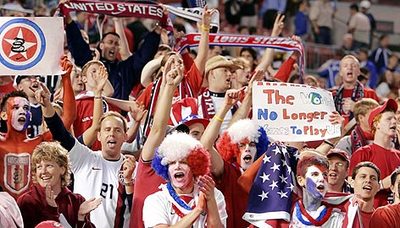 On Saturday the United States men's soccer team will play the Cuban national team in Cuba for just the third time in 51 years. The U.S. and Cuba were drawn into the same qualifying group for the 2010 World Cup in South Africa. Every world cup qualifying game is incredibly important and playing games away - even against a smaller country is incredibly difficult - just look at the bloody highlights from the U.S.-Guatemala game two weeks ago. So any support from traveling fans is much appreciated by the players. Against Guatemala there were a surprising number of American fans who braved considerable danger - to vocally support the United States. One would think that by playing a Caribbean island nation in September, just 90 miles from the United States that the U.S. would have fairly sizable fan support. In fact, I looked into tickets earlier this summer. Unfortunately, the U.S. government won't let me support the United States of America.This is from the US Soccer Federation's website - which often helps coordinate fan travel:
U.S. Soccer has been informed by the United States Department of Treasury (the United States Government agency of jurisdiction with respect to regulating travel to Cuba), that travel to Cuba for tourism or for the purposes of observing specific public performances, including sporting events, is prohibited under U.S. law... U.S. Soccer is unable to assist fans wishing to make the trip.
So let me get this straight - it is against U.S. law for me to travel to Cuba to support the United States. Ridiculous.
Having now adopted a hardline position on Cuba, does John McCain agree with the Bush administration's travel ban that prevents Americans from supporting other Americans? Not exactly putting country first is it.