A Jumbo Foreign Policy

Posted by Patrick Barry
The award for DNC omnipresence has to go to Bill Richardson. Seriously, the guy is everywhere, be it the convention floor, the Google kiosk, or hallowed greasy-spoon diner Sams No. 3 diner.

Richardson's ubiquitousness is easily matched by his foreign policy judgement -- his unwavering commitment to a complete withdrawal from Iraq has unquestionably moved the debate to a much more rational place, a far cry from where we were a year ago, when people we're quibbling over what a limitless engagement would look like.
Richardson's shrewd grasp of foreign policy should come as no surprise - he is after all a Jumbo, a proud graduate of Tuft's University.


But Richardson's not the only one. Other notable Jumbo's include:

Les Gelb, President Emeritus, Council on Foreign Relations: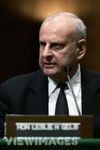 Adam Blickstein, Press Secretary, National Security Network (Right side):

If Democrats take the White House in November, these and other Jumbos will likely play a big role in reducing the deficit left by the Bush Administration.