My Head on the Sand

Posted by Ilan Goldenberg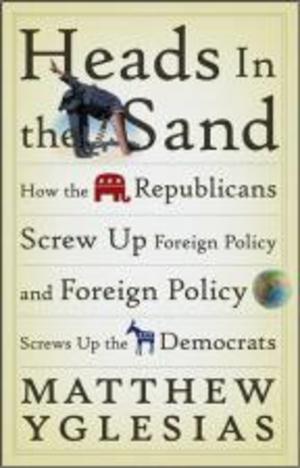 I'm lucky enough to be on vacation for the next few days, which means that I was able to sit in the sand today and devour Matt Yglesias' excellent new book Heads in the Sand. Go buy a copy! It's should be required reading for Democracy Arsenal readers.
Matt's greatest contribution is his explanation of the politics of foreign policy since 9/11. I would say that this is the definitive work on how the Democratic Party has reacted to security issues in the last six years. There are very few people who actually sit at the nexus of foreign policy and politics and who can understand and explain the interplay. Most are either too wonky or too political to do the topic justice, but Matt manages to do it and that is what makes the book so good. I'm going to do a few posts on the book over the next week or so, especially since we here at NSN are all about the interplay of politics and foreign policy (And because I have the time since I'm on vacation. Partially this will depend on how understanding my wife decides to be.)
I wanted to start with Matt's observation that Democrats are just too uncomfortable talking about foreign policy and instinctively fall back to other issues. Democrats haven't won a Presidential foreign policy election since 1964. As a result, most Democratic political operatives have honed their skills winning elections based on domestic policy and don't feel comfortable talking about foreign policy. Whenever they can, they try to change the topic. Matt lays out how Democrats tried to essentially take foreign policy off the table in 2002 and 2004 and how this approach blew up in their faces. (You can't take an issue off the table unless your opponent also wants to take it off the table.) By 2006, Democrats had mastered the art of attacking Republicans on the incompetent execution of Iraq, but they still hadn't figured out how to articulate a coherent alternative.
Enter 2008 and we are at it again. The economy is in the tank and there is a real temptation to just ignore national security or use Iraq to emphasize the costs at home. There is a debate right now within the progressive community and the Democratic Party about whether to focus on the costs of war or a broader national security critique.
The problem with the cost of war message is that it lays out no vision of American foreign policy. It in essence says: "We're not interested in foreign policy. This costs too much and is hurting us at home." This is a classic Democratic attempt to shift a foreign policy issue back into a domestic issue. The problem is that it doesn't help you when the Administration shifts the conversation to Iran or begins tossing out accusations towards North Korea and Syria. "It costs too much" is just not a very useful answer to "How do we keep the evildoers at bay?"
On the other hand, a comprehensive critique that focuses on how Iraq has undermined our security across the world and how a less reckless policy that involves focusing on the threats in Afghanistan and Pakistan, negotiating with adversaries such as Iran or Syria, working with others in the international community on common challenges such as our dependence on oil, and rebuilding our reputation, is a much clearer vision. And guess what. In this election, the polling seems to show that it actually works better!
The economy will undoubtedly play a major role in the election, and there is nothing wrong with making the cost of war argument within the context of the domestic economic debate. But it cannot define the Democratic foreign policy message.