Walls

Posted by Max Bergmann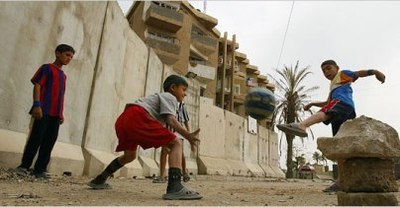 It was pointed out yesterday that the U.S. has begun building walls to separate segregated neighborhoods – a tactic actively deployed in Northern Ireland. While Matt describes these efforts in Northern Ireland as being some what "successful," that is only true if the goal behind them was to achieve less violence, as opposed to broader political reconciliation. Erecting walls in both Belfast and Baghdad was/is likely a wise and necessary security tactic, but the need to build them tells us something about the intractable nature of the conflict in Iraq. Looking more broadly at British efforts in Northern Ireland provides other sobering lessons. Brendan O'Leary and John McGarry, two of the leading experts on Northern Ireland, detail the efforts of the British security services:
Up to 30,000 [equivalent to about 450,000 in Iraq] personnel regularly patrol the countryside and city-streets of the region, establishing armed 'check-points' at will. 'Forts' and observation posts with the latest surveillance technologies have been established in the heart of nationalistic districts. House-searching and civilian-screening take place on a massive scale, backed up by computer data-bases on over one quarter of the population... From time to time entire 'town-centres' are cordoned off and everybody entering such areas is subjected to rigorous searching...
But despite these efforts there was little political reconciliation for more than a decade and the situation on the ground continued to be tense:
Both civilians and security personnel travel warily in certain 'shatter-zones' or avoid them altogether; and migration from 'mixed areas' to areas of ethnic residential segregation in the 1970s reduced opportunities for 'easy' killings.
There are two relevant points here.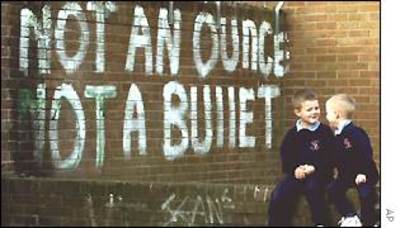 First, the U.S. cannot come close to replicating British efforts in Northern Ireland in Iraq. The Brits had 30,000 troops - this would be equivalent to having about 450,000 troops in Iraq. But perhaps more importantly the Brits were not dealing with an alien culture. They spoke the language, understood the culture and had good intelligence on the actors and groups that they were dealing with.
Second, is that even the British security services, with all of the advantages just mentioned, was not able to bring peace to Northern Ireland. No one looks back and says the British brought peace to Northern Ireland. Their efforts did help decrease some of the violence, but sectarian violence, politically motivated assassinations and intimidation continued. That is why after nearly two decades of British efforts in 1989 the UK Secretary of State for Northern Ireland admitted that the IRA could not be militarily defeated. Instead, movement toward peace first took regional diplomacy between the UK and Irish governments, followed by continuous and eventually comprehensive negotiations that included all parties to the conflict.