Nothing to fear in Egypt except fear itself?

Posted by David Adesnik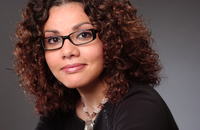 In a WaPo opinion column, Egyptian journalist Mona Eltahawy (photo opposite) reports that during her annual visit to Cairo, many of her friends told her that the Egyptian people had "broken the barrier of fear" on which the Mubarak regime depends for its longevity. Eltahawy writes that:
I have never heard so many relatives and friends take such an interest in Egyptian politics or -- more important -- feel that they had a stake in them. This opposition movement holds almost weekly demonstrations. It draws Egyptians from across the political spectrum: leftists, liberals and Islamists. And, more worrisome for Mubarak, it has solid roots in the country's middle class: Journalists, lawyers, judges and university professors have all thrown their hats in.
Before taking an active interest in Egyptian politics, Eltahawy's friends were preoccupied with the sins of America and Israel in Palestine and Iraq. Eltahawy doesn't say, but seems to imply, that the projection of her friends' anger abroad was the inevitable consequence of thier impotence on the homefront. But now that has changed:
In Cairo I met reform activists and was lucky enough to march with 300 fellow Egyptians in a demonstration through Shubra, a working-class neighborhood weighed down by the unemployment and poverty that are constant concerns for many Egyptians. It was the first time since the anti-Mubarak protests began in December that protesters had taken their message to the street.

Riot police, who had previously confined demonstrations to one spot, were nowhere to be seen. Most of us knew it was because two days before the protest, Secretary of State Condoleezza Rice had admonished the Egyptian government for the May beatings and said that peaceful supporters of democracy should be free from violence.
In other words, words get results. As Eltahawy rightly observes, the Bush administration must keep up the pressure if it wants to see real results. Democracy is still a long way off, but its foundations are now being laid.
And to think that just seven months ago, the prospect of serious reform in Egypt was almost unimaginable. Only the fools seemed to believe back in February that "the great and proud nation of Egypt, which showed the way toward peace in the Middle East, can now show the way toward democracy in the Middle East."