Fertilizing the Ethanol Problem

Posted by Adam Blickstein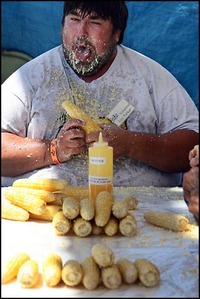 As we've hit our agricultural stride on Democracy Arsenal, there's another aspect of the corn, ethanol, energy and agricultural policy debate that is often overlooked: fertilizer. While those who drive gas-guzzling SUV's are often derided for excess oil consumption, you never hear complaints about folks that eat Wheaties or Twinkies or drink Coke as part of the petroleum problem. Even independent of the oil used in shipping, nearly all our corn-based products, including most of our beef, soft drinks, produce, junk food and chemical byproducts (essentially everything in your average supermarket) is derived in part from oil and produced using petroleum-based fertilizer. The basis of our agricultural system is oil, and instead of primarily relying on the sun as the energy source of nitrogen for our crops, we use petroleum.
The U.S. is the second largest consumer of petroleum based fertilizer in the world (behind) China, but we use more petroleum based fertilizer for feed, produce and pasture purposes than any other nation. But while lawmakers in Congress are eager to hold hearings to rail against the automobile industry for its gasoline addiction, or deride our over-dependence on foreign oil, you will never see inquiries into why the foundation of our agricultural industry is indeed petroleum. It's an integral piece to the energy puzzle that has been missing in the political dialogue. And instead of trying to solve it, we enable the problem through the illogical policies of federal corn subsidies and support for ethanol.
It strikes me as a little more than ironic that we'll need to consume more petroleum via fertilizer in order to grow more corn to produce more ethanol, which has destabilized the global food markets, all in the name of decreasing our dependence foreign on oil, which we simply can't accomplish by increasing our use of ethanol from any of the sources commonly discussed (see chart below). There is simply nothing about these policies that makes good, practical sense and we've all become children of the corn in more ways than you might think.
(And yes, I just read Omnivore's Dilemma)
corn requires 29 percent more fossil energy than the fuel produced;
switch grass requires 45 percent more fossil energy than the fuel produced; and
wood biomass requires 57 percent more fossil energy than the fuel produced. (From a 2005 Cornell study)